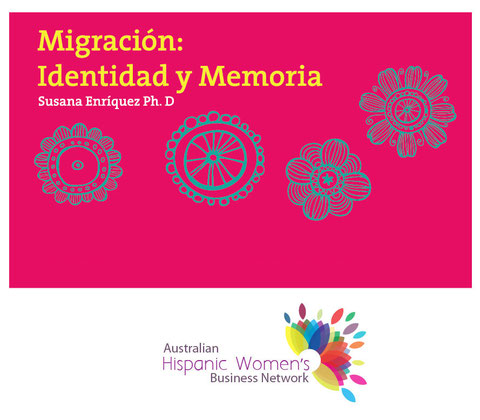 BOOK MIGRACION: IDENTIDAD Y MEMORIA
$30 each or  4 for $100  
Must be paid in advanced
AHWBN -  St George Bank BSB 112 879 ACC 429 252 753
To confirm please send us an email with the transaction number.
AHWBN CLOSING EVENT  
Saturday 14th of February | 6:00pm-11:00pm
La Cita Restaurant
The Executive Committee has booked Saturday 14 February from 6 pm, to celebrate the life and achievements of the AHWBN during its existence.  AHWBN AWARD WINNERS, NOMINEES, Members and friends are cordially invited to participate especially if you feel the AHWBN made a difference and inspired other women in its ten year journey! Executive Committee members to make a list for order of appearance on the night!
RSVPs by email: info@ahwbn.org with deposit of $20 pp by November 10, 2014  
AHWBN -  St George Bank BSB 112 879 ACC 429 252 753

7:55 Lucky Door Prizes for everyone!!
The AHWBN has completed its circle! Be part of the final events!!

The Australian Hispanic Women' s Business Network (AHWBN), was created in 2005, with the idea of highlighting the profile of the Hispanic woman in Australia.
The group is formed by Spanish speaking immigrant women who continuously contribute to the successful integration of the Hispano-Australian community in multiple ways. Through these years and with an objective approach, the AHWBN has gradually increased in number of members and friends, due to its positive and dynamic nature.